Recently, team Aviser Finance sat down with Rebecca and Kieran who purchased their very first property in the beautiful beachside suburb of Torquay.
In this candid discussion, we delve into their experience of obtaining a family guarantee, paying it off, buying their very first home and embarking on a new family lifestyle. This is Rebecca and Kieran's tale of property success with Aviser Finance.
FAMILY GUARANTEE
Talk us through the process of obtaining a family guarantee. Did you encounter any challenges or obstacles?
We had been discussing the idea of buying a house for a year or so. We had just fallen pregnant with our first child Zoe (now two years old!) and had spent our twenties travelling the world – living overseas and interstate, studying, and generally have a great time. We hadn't factored saving for a deposit into this picture, so when we came to look at buying a property we needed to think creatively. We were incredibly fortunate that Kieran's parents were in the position to and willing to provide a guarantee for our loan.
It was probably more complex than we initially envisaged, and we were lucky to have Martin and the team at Aviser Finance to talk both parties through the steps required. Kieran's parents were also required to seek independent financial and legal advice. And of course, we needed to be sure that we could service the loan so that we didn't end up in a predicament where we impacted upon our wider family. We were both in secure jobs and comfortable with our employment prospects. The Aviser team talked us through the potential risks, ensuring we had a thorough understanding prior to making any commitments.
How long did it take to pay off the guarantee? 
Within one year, the value of our property had increased enough that we were able to take on the loan ourselves and release the guarantor security.
How was this outstanding result achieved?
We were particular about the area we purchased in and were relatively confident (as much as you ever can be!) that the value of our property would increase within the next few years. It was a growth area – we bought in the early phases of a popular housing development – and the suburb we bought in had shown some of the best price increases in regional Victoria in recent years. Fortunately, the prices in both the area and the development had risen considerably, increasing the value of our home by around 20% more than it was worth at the time of construction.
How did you come to work with Aviser Finance? 
We were recommended to Aviser Finance by our friends.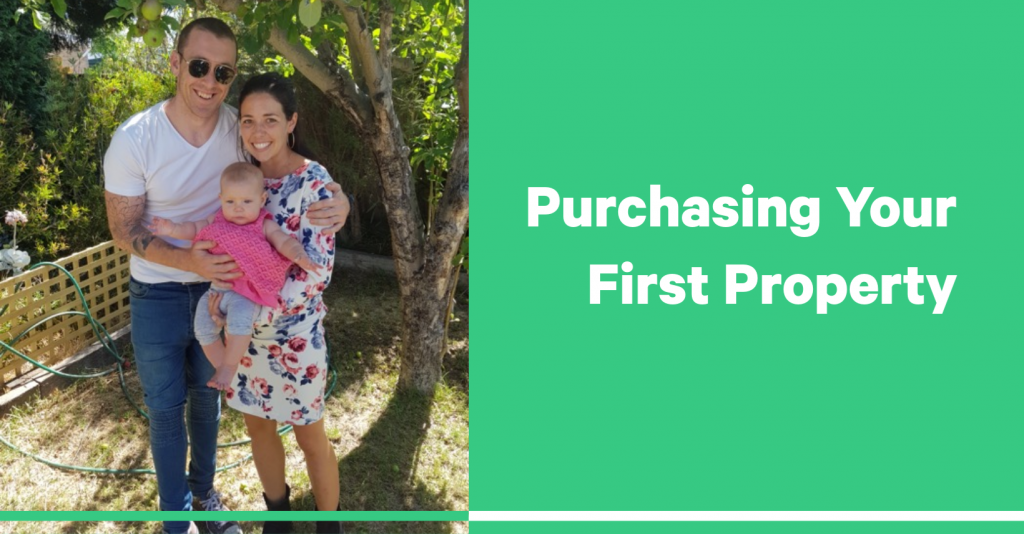 FIRST HOME BUYERS            
Can you describe the role Aviser's team played in assisting and supporting you to purchase your first property?  
We had no experience in the property market, and they educated us and guided us every step of the way. We had a situation that was not as straightforward as some – requiring a guarantor loan, income supplemented by varying freelance and overtime payments – and Aviser were able to work around any complications and curly questions.
They negotiated an interest rate that we were happy with, one that is competitive. They took over the hassle of dealing with the bank, and this took the pressure off us – especially at key times such as various stages of payments (we built our own house so the payments were more complicated than one payment).
I appreciated that the team were very accessible via phone and email, always available to answer the majority of our questions. On the rare occasion they didn't know the answer, they would quickly seek information from the bank or relevant party.
What factors influenced you to make the move to Torquay? 
There were a number of factors we considered. We had looked at houses in Melbourne, but within our price range we would have been either in a tiny one bedroom apartment in the inner city or a house in the outer suburbs, requiring a long commute. While these are perfectly fine options for many, we decided that it was not ideal for us.
Friends had moved to Torquay before us and loved the quieter lifestyle and the proximity to nature. We found that we could afford a house and garden – without taking on an excessive mortgage that would require us to work extra jobs or forgo travel and other things we love.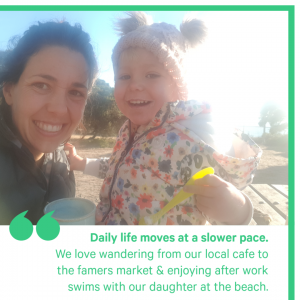 We bought the land when we were pregnant, and realised that it was important to us to have easy access to beaches and parks. We had loved living in inner city Melbourne and Sydney (South Yarra, Fitzroy, Port Melbourne, Bondi) but realised that quick access to a multitude of bars and restaurants was probably not as important with a newborn!
We are a five minute drive from the beach, 15 minutes drive from the spectacular Great Ocean Road, have dozens of parks within a short walk, ride or drive. Daily life definitely moves at a slower pace – we know our neighbours, and we love wandering from our local cafe to the famers market at the end of the street and enjoying after work swims with our daughter at the beach.
---
Three key points of advice for young couples looking to purchase a property:
1. Start saving early.
Even if it is a small amount, setting aside a specific amount of savings will help to give you a head start.
2. Assess your spending habits and see where you can reduce costs.
We never wanted to cut out all the things that bring us joy. We enjoy attending yoga or martial arts classes, and going out for coffees as a family. These activities remained, but we don't buy designer clothes and cook at home as often as possible. For us it is about balance rather restriction.
3. Seek help and ask questions.
It's OK to not know what you don't know. We found having professional help invaluable. We asked hundreds of questions and were never afraid of sounding silly, because we wanted to be as informed as possible about the biggest purchase we'd ever made.