"The team at Mornington Cycles are passionate about cycling, and live and breathe bicycles. Our mission is to ensure that all our cycling customers achieve their full potential and enjoy the ultimate riding experience."
At Aviser Finance, we're proud to have a strong network of talented individuals, businesses and trusted experts from a variety of industries, who we are always pleased to recommend to our clients and community. In today's blog, we're thrilled to shine a spotlight on Brad and Tobi from Mornington Cycles – exceptional business owners who Aviser Finance have had the pleasure of assisting with preparing finances for their residential and commercial properties, whilst building a close, trusting relationship.
Aviser: Can you briefly tell us about Mornington Cycles and how it came about?
Brad: Mornington Cycles is a premium bicycle retailer in the heart of Mornington, where we focus on premium brands and customer service. MC was born out of the growing cycling community on the Mornington Peninsula, where I (Brad), recognised the need for a more customer focussed bike shop to fulfil customer cycling needs. Having previously been a professional engineer for 20 years, I always dreamt of having my own business. Combining this with a love of cycling, decided to walk away from his long Engineering career and jump into the challenge of starting a new business from scratch. Almost 4 years on, the business has served many needs of the local cycling community and continues to develop and grow.
A: What changes have been made to protect your community (MC Ride Crew) in response to COVID19?
B: The MC team, and our community, have rapidly adapted to the continuously changing situation with COVID-19. We've thoroughly monitored conditions and made decisions on a daily basis to enable us to continue operating and safely remaining open through this trying time.
Some of these changes include increasing the level of pick up and drop off service; enforcing social distancing by placing markers on the floor; implementing a hand sanitiser station around the shop; ensuring workshop technicians who were handling bikes take additional precautions like wearing gloves, and increasing the frequency of cleaning high touch point areas. We normally conduct 4 shop rides per week, and all of these are suspended until further notice.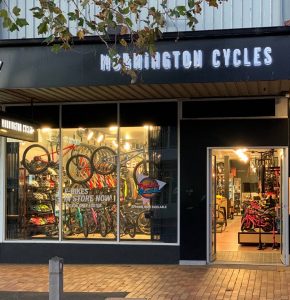 A: How has the pandemic impacted your business?
B: Initially, we had a quite rapid slowdown as all the local cafes closed and many other business along our street, we had an extreme decline in customer traffic and sales in the first few weeks. We believe that this was mainly attributed to the Mornington Peninsula being labelled as a COVID-10 Hot Spot and the local people simply just disappeared.
Fortunately, once we hit Easter, things turned around and we have been inundated with people wanting to get out and about on bikes. We're grateful to see increased interest in our products and service – and are now met with the new challenge of keeping up with demand!
A: What are three of the biggest lessons you learnt through the process of purchasing and refinancing a residential property and business with Aviser Finance?
1. If you are going to engage the services of a finance broker, contact them early to determine your borrowing capacity before getting too far down the path of looking at a new property.
2. Make sure your finances are up to date and all financial documents are prepared.
3. Maintain clear, honest communication at all stages of the process to ensure things go smoothly.
"Without the help of Adam and Martin of Aviser Finance, we would not have been able to get our dream home last year. Our own bank was unable to help us out and it was only through using a mortgage broker that we were able to accomplish this significant goal!" – Brad and Tobi Clarke.
Mornington Cycles is more than just a place to buy and service bikes. It is a place where customers can enjoy coming in just to spend time with the staff and to be part of the buzz. For all of your cycling needs, get in touch with Mornington Cycles today!