Refinancing in 2022 is red hot. Are you ready to join the refinancing boom? The sooner you refinance, the more money you're likely to save! 
As the cost of living soars, more Australians want a better deal on their mortgage repayments. We have seen a significant increase in homeowners seeking refinancing options to save more on their home loans – and they are saving serious cash!
So, what is refinancing?
The purpose of refinancing is to save money by obtaining a lower interest rate. Refinancing allows you to save more money over time by either negotiating with your current lender or switching lenders to pay off your loan through them instead.
Over a million Australians refinanced in the last twelve months (ABS). The result? An average of 0.4 percentage point reduction in their mortgage interest rate.
That's a potential annual saving of $1524 on a $610,000 loan!
81% of Australians who have refinanced previously say they plan to do so again in the next two years. 
Refinancing can save homeowners thousands, and with Aviser Finance in your corner, the process is much easier than you might realise!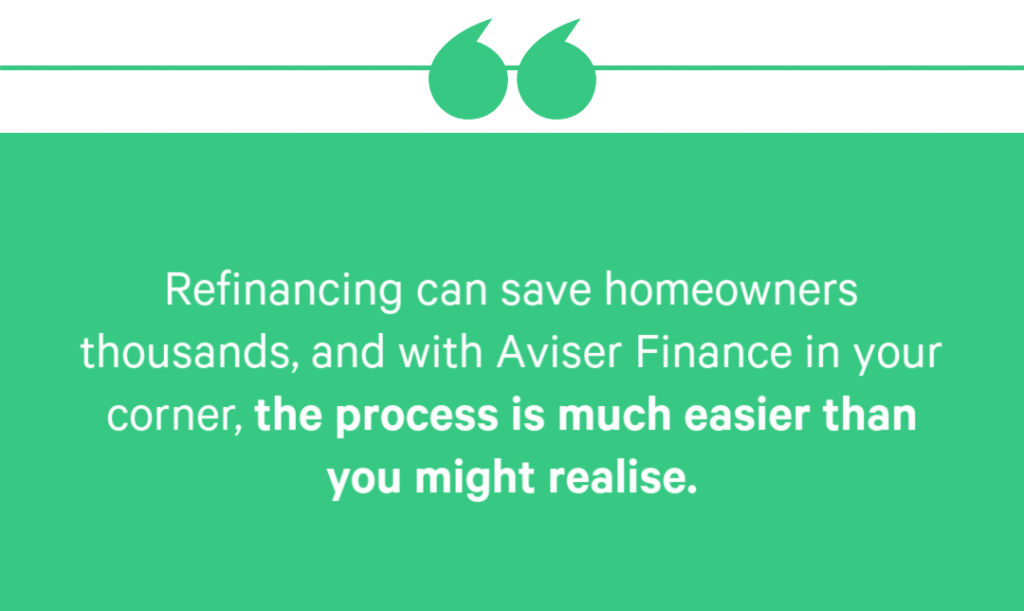 We can find you the best interest rates
Refinancing allows you to save over time. Making changes to your rate today can result in significant long-term savings. Even .1 of a percentage reduction on your current interest rate could make a big difference to your bank account.
What type of interest rate is best for you? Aviser Finance will help you understand whether a fixed or variable rate is best for your current circumstances to set you up for future savings. We look at your loan structure from every possible angle to identify where you could be doing better and match you with the right loan to help you save more. 
We can stop you from paying 'loyalty tax'
$17.9 billion in loans were switched to another lender in July of 2022 in Australia, meaning it is very likely you could be paying less on your mortgage. 
Your current lender won't rush to offer you a competitive rate unless you indicate a desire to go elsewhere, and they're still unlikely to give you the best potential value. 
Aviser Finance has access to the best lenders and even loans that might not be available to the general public. 
Many Australians end up paying thousands more by staying where they are. Aviser Finance wants to help you succeed. Our loyalty is always with you, not financial institutions.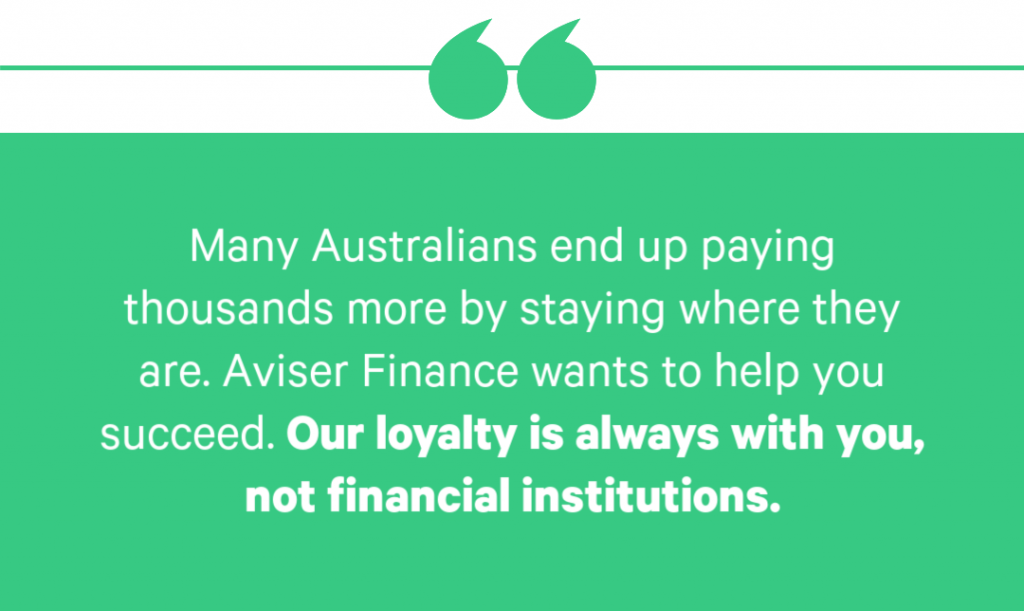 We can help you avoid paying more in refinancing fees
Refinancing can come at a price. Changeover costs vary between lenders, making it harder to determine if you're really getting the most value. You can be charged to leave your current provider, to open a new account elsewhere, or even mortgage insurance which can cost tens of thousands of dollars. 
As refinancing popularity surges, many major providers are introducing more fees to stop their customers from leaving. Aviser Finance is incredibly knowledgeable about the current home loan market and uses this knowledge to prepare you for every obstacle that could come your way. 
We always look to save our customers initial changeover costs and any ongoing fees so they will see huge savings in the long-term. 
Contact Aviser Finance today
to learn more about how much refinancing could save on your mortgage!