With recent bank reforms, tighter lending restrictions and pre-election jitters contributing to a low interest rate environment, refinancing your home loan could inspire new and exciting lifestyle changes without the financial restrictions. Before negotiating with your current lender, it's in your best interest to talk with an expert broker who can present more than one flexible loan solution. With their support, you may be able to improve your financial security, build additional equity and settle credit card debt. In the latest Aviser Finance blog, Mortgage Broker Martin Ryan talks with clients who have recently refinanced about the simple process of switching home loans and why doing so can help to build wealth.
Unlocking Savings Through Refinancing
Refinancing occurs when a borrower decides to switch home loans from one lender to another lender (OR to a new loan with the same lender). The refinancing process of taking out a new mortgage is to simply repay an existing loan. Switching to a home loan that offers more flexible options and is better suited for your household or lifestyle can help individuals, couples and families secure a more sustainable financial future. Refinancing can help individuals make their real-life dreams a reality without the financial pressures of paying too much for their mortgage or not being able to save without the burden of personal or credit card debts.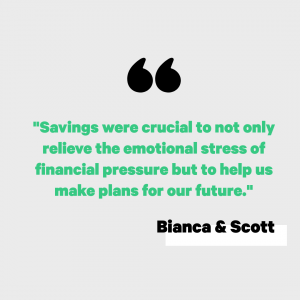 Live Your Best Life Through Refinancing
For Australians there are tougher lending standards than ever before, these are restricting the size of mortgages and options for borrowers to refinance with competitors. A recent phone survey conducted by Digital Finance Analytics revealed 40% of borrowers who tried to refinance with banks were rejected and are now 'mortgage prisoners' – locked into high rate loans with no immediate way of getting out. To avoid such a circumstance, it's crucial for borrowers to look around with the guidance of an expert broker.
In today's competitive loan market, there are better deals and savings available for nearly everyone – you will simply need to work with a broker to help you navigate through comparison rates, cancellation costs and loan refinance options. We suggest you conduct an annual home loan review with Aviser Finance – it won't cost you a cent, but it could save you thousands. Refinancing has helped many Aviser clients settle credit card and personal loan debt, fund renovations and build equity towards buying a second property or building a new home.
I recently got some feedback from clients in relation to their refinances and the benefits of migrating to a newer, more functional loan product.
Fred and Melanie
M: Hi Fred and Melanie. Why do you think people should consider refinancing?
F&M: Because it's so easy to do and you save so much money! You can literally save thousands of dollars.
M: How does refinancing assets improve someone's lifestyle or financial position?
F&M: It simply enables you to have more money. If you've money in your own pocket, you can spend it on renovations, holidays with the family or whatever else you like…shopping perhaps?
M: How would you describe the support you received during the refinancing process?
F&M: Fantastic. Absolutely fantastic. The whole thing was easy peasy. The process was excellently done… and did I mention, easy?
Rob & Tamara
M: Why should people consider refinancing?
R&T: As you know life is fast these days and no-one has time to do all the research. Martin, knows all the best deals to suit your lifestyle and how to get the best results for you and your family.
M: How does refinancing assets improve someone's lifestyle or financial position?
R&T: Cheaper interest rates and lesser repayments.
M: How would you describe the refinancing support offered by Aviser?
R&T: You and the team always keep in touch to see what you can do, making our lives, a little less stressful. Last Christmas – thanks to the financial help from Tonina and you Martin – we were able to (for the first time ever) use savings for shopping instead of our credit cards. Thank you!  
Bianca & Scott
M: Tell me Bianca & Scott, what did you set out to achieve when coming to Aviser?
S&B: After purchasing our first family home in 2017, we were on a very tight monthly budget with little room for extras or emergencies. To help alleviate the financial pressure of mortgage repayments, credit cards, childcare fees and everyday living, we reached out to Aviser. After chatting with you and Tonina, we decided on refinancing, using the $300,000 equity in our home to wipe our credit cards, freeing up over $500 each month in savings. 
M: What are you planning to do with such incredible savings?
S&B: These savings were crucial to not only relieve the emotional stress of financial pressure but to help us make plans for our future. We're now using those savings for our son's education, as well as an upcoming trip overseas and for emergencies. 
M: Finally, how was the overall experience and support offered at Aviser?
S&B: The process with Aviser was very simple, fast and effective. You and Tonina were there to answer all our questions and walk us through any complexities with ease. Thanks for making it happen.
Guiding you step-by-step through the refinancing process, let's work together towards securing your sustainable financial future. If this blog has made you curious about refinancing, get in touch with the expert broking team from Aviser Finance today.